Obama panders to base - but increases his problems with the center!....
He scrambles to regain some footing with the left wing of his party, but in so doing, he moves farther away from the centrists Democrats - many of whom are facing tough elections of their own! And, it seems the more he appears on TV, the less positive is the impact on his poll numbers!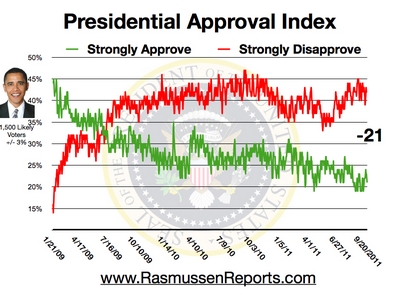 Following - from today's POLITICO, is but one of the many indications that his support among centrists and independents is failing.
"Liberals on Monday cheered President Barack Obama's plan to hike taxes on the wealthy to cut the deficit. But the response from Democrats on the front lines of 2012 election battles? Silence. Or, at best, tepid enthusiasm.
Centrist Democrats, a dwindling breed on Capitol Hill, were quickly faced with another rough choice once Obama went public with his plans: Reject their president or back what Republicans are already calling the largest tax increase in the nation's history".
Read more:
http://www.politico.com/news/stories/0911/63887.html#ixzz1YVapOQKl